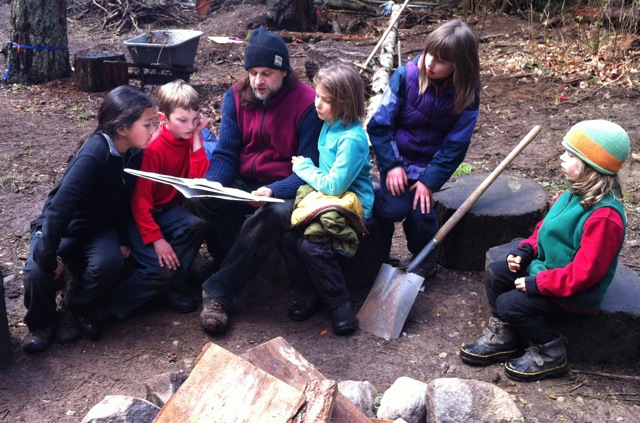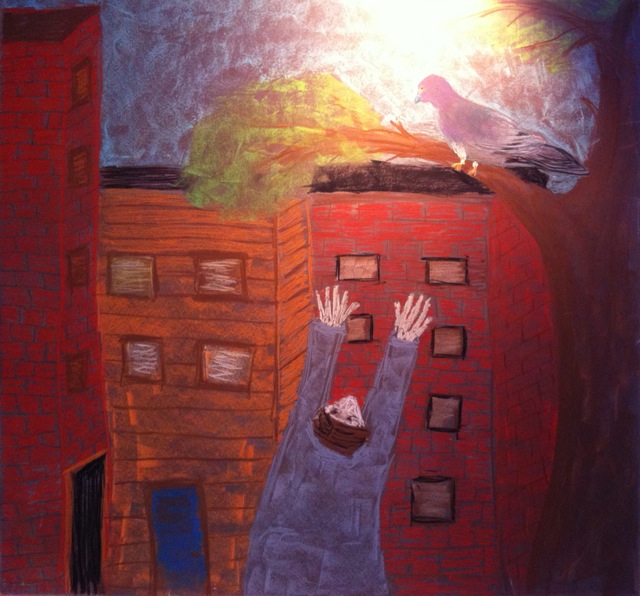 We began our week with unbridled enthusiasm for planting. With guild maps, gloves and shovels in hand the children continued the work of planting a forest, stopping only for lunch, a poem and quick plant identification game called, "You're only safe if…you are touching…"
Tuesday morning during a group wander in silence to observe bird life we encountered a bald eagle swooping down and killing one of chickens before our very eyes. A stark and memorable lesson for the week of Equinox, a time to reflect upon balance.
Our story for the week came from an English ballad that recounts the true story of a working class man named Charlie Hudson. In it he says, "I can't fly but me pigeons can, and, when I set them free, it's just like part of me, gets lifted up on shining wings" It tells of the courage of taking a risk in order to realize a dream. As we drew an illustration of Charlie and his famed King of Rome (homing pigeon) we sang the song over and over. And, we sang the song again for our Spring Equinox ritual, a gathering in which we celebrated the rebirth of the earth and seeded our own dreams and intentions. We cast seeds ,(from plants we had grown the previous Spring and harvested and saved,) onto a beautiful fertile egg shaped mound of soil we had created earlier in the week
On Thursday morning Homestead alumni, Djuna, Maya and Shira joined us to teach on their day off from McMurray Middle School. We all enjoyed a ratio of 1 teacher per 2 students for math and language arts. The children were very excited to have the "big girls" full attention.