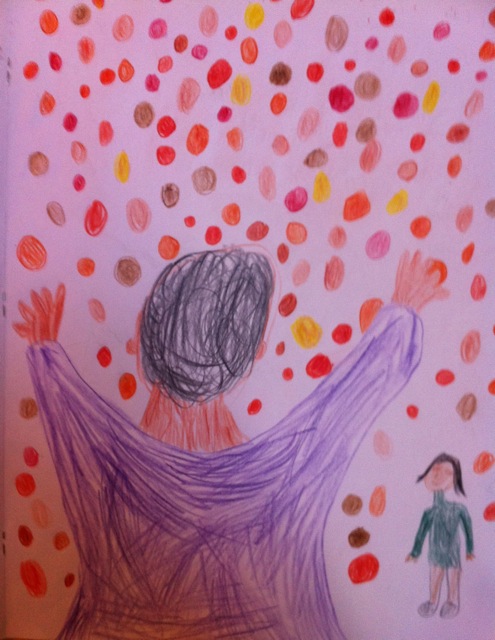 The First Basket comes from the Mandan people, who live in the North American prairie. The values of generosity, sharing and gratitude are conveyed in a dream, in which a cedar tree gives a Mandan woman instructions for making the first basket. The woman gives thanks and then shares what she has learned with other women. Their baskets even carry themselves when the women sing to them. However, when another woman from the village steals an entire Winter cache of seeds from the Mouse People the baskets stop carrying themselves. The Mandan believe that the necessities and comforts of life must be shared with all beings. Our drawing for this story was in part a weaving lesson as we attempted to illustrate the over under pattern in weaving.
For afternoon activity we have begun weaving with sea grass ,working in pairs.
We have been working on our endurance with morning runs, (finding our individual coyote gaits,) through the farm and forest, following opening circle and before chores. Our chores for the week were focused on blackberry removal in the area we will be planting out for our next workshop session and finishing touches on the new grand duck enclosure.
This Little Light of Mine was our new song for the week. Math involved addition and subtraction mental math problems. We have been putting a fair bit of attention towards organization of our written work with numbers. Check out their blue math books to see your child's progress.
A highlight of the week was the children sharing their dreams for the future. They were asked the previous week, on the heals of our lesson about Martin Luther King's dream, to think about what they want to set an intention for in their future. Standing on a mound of chips encircled by their peers they each began with, "I have a dream that."
Here are examples of dreams shared:
" I have a dream to get my pear tree pollinated" -Luca
"I have a dream that when I grow up I will have lots of animal friends" - Bella
"I have a dream that Homestead will go on for a really long time, like forever" - Bella
"I have a dream that I will make my room look like I'm flying in the clouds." - Japhy
"I have a dream that my children will be judged by the content of their character" - Gerritt
"I have a dream that someday I will be a great carver and carve an entire house." - India
"I have a dream that someday I will fly." - Rowan